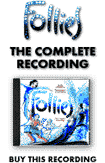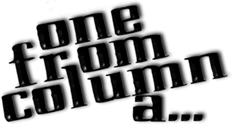 December 29, 1998 - #66


Countdown to the New Year - Tuesday Night
Here we are, one day closer to New Year's Eve. Not really, of course, because I now have to write all of these on Monday night because Mr. Mark Bakalor thinks he belongs in Los Angeles and is leaving this here groundbreaking column in the lurch. In the lurch, do you hear me? Have I mentioned that 1998 was the year of the donut kick and the bacon binge? My favorite performances of 1998 were Brent Carver in Parade, Mary Louise Parker in Communicating Doors, Charlotte D'Amboise in Chicago, Martin Short in Little Me, David McCallum in Communicating Doors, the Callaway sisters in their nightclub act Sibling Revelry, Carol Burnett and Susan Egan in Putting It Together, and others too numerous to mention. My favorite television program this year was the PBS documentary on Leonard Bernstein. Not perfect, but as these things go, darn good. The show included some pithy comments by my close personal friend, Mr. Stephen Sondheim, and, as pithy comments go, they were darn good. My least favorite thing this year was Mr. Mark Bakalor's revelation that he is leaving tomorrow morning, thus not enabling this here column to be truly groundbreaking. Had I known this was going to happen I would not have given him as big a portion of spaghetti, let me tell you that. Not only is he leaving tomorrow morning, but he will not be back until next Monday, which means the next column will be going up one day late. I think Mr. Mark Bakalor is angling for the Butt Cheek Of The Year Award. I think he has left all competition in the proverbial dust. Well, you may as well stop reading right here and now, and continue tomorrow night as we continue our faux countdown to the New Year.
---

Click here on Wednesday evening...

Send all email to me at real@sondheim.com or use the form below...
Name:

Email:

Trivia answers, questions, comments...
Until next week, I am, as I ever was, and ever shall be...

Yours, yours, yours, yours, yours.


Did you like this week's column? Want to talk about it with other SSS readers? Check out Finishing the Chat!
[ © 1998 hijinks design | [ Talk to the SSS | Mark Bakalor ]