« One From Column A...


by "The Real A"
September 13, 1999 - #97


Well, dear readers, in case you haven't noticed I am now writing the first sentence of this here column. I point this out only because after staring at a blank screen for twenty minutes I felt I had to write something because one simply has to have a first sentence in order to have subsequent sentences. There, you see, we are now in the thick of the column, sentence-wise. Not in the thin of the column, mind you, no, we are in the thick of the column. Near my home I have a golf course. Wasn't that a nice seque? Yes, you heard it here, dear readers, near my actual home is an actual golf course where people play actual golf. Now, I don't know about you, dear readers, but I simply don't get golf. Oh, I have tried to get golf and yet the very concept of hitting a small ball into a small hole remains elusive in my book (Chapter 503 - Hitting A Small Ball In A Small Hole And Its Elusive Meaning). Every day on golf courses everywhere, people play golf and why shouldn't they? Wouldn't it be silly to play squash on a golf course? I, myself, never played squash, although I have eaten squash. Why would anyone name a sport after a vegetable? Can you imagine if football were called kumquat? Or baseball eggplant? Anyway, back to golf. There people stand, golf clubs in hand, hitting their little balls into little holes. From this they get great pleasure. I myself have never played real golf. I have, however, played miniature golf because, when I was growing up, we had a miniature golf course mere blocks from my home. I did pretty well at miniature golf and sometimes even made a hole in one. Oh, that was exciting, making a hole in one. Usually, the best I could do was a hole in five. Making a hole in one was cause for celebration and so I would walk next door and buy myself a malt at Foster Freeze. This made the people I was playing with very annoyed, as I would do it in the middle of a game. Whenever I didn't do well I would simply want to flog myself or an innocent bystander. I would want to just raise my golf club and do some serious flogging. Of corse, to play golf and to flog go hand in hand as "flog" is "golf" spelled backwards. People spend hours and hours walking from tiny hole to tiny hole, lugging their heavy golf bags. Unless they are wealthy golfers and then they have a caddy lug their heavy golfbags. Lazy golfers even travel from hole to hole in their golfmobiles. Golfers say they enjoy the sport because they are out in the open air and they get great exercise as they swing their clubs to and fro and also fro and to. I love to swing things fro but never to. I feel fro is the only way to go. In fact, I'm going to swing something fro right now. Let's see what I have lying around.
There. I have just swung a piece of lunchmeat fro and it was ever so much fun. Oh, I suppose you could swing said lunchmeat to but it doesn't quite have the joie de vivre of swinging it fro. What the hell am I talking about? Oh, yes, golf, which has absolutely nothing whatsoever to do with musical theater so why the hell am I talking about it? Although my close personal friend, Mr. Stephen Sondheim, once wrote a song which pertained to golf entitled Pour le Sport, so there you are. You see it all comes together in the end. "It all comes together in the end". I think I shall not touch that sentence with a ten-foot pole, although I might touch it with a five-foot pole. Actually, the only Pole I know is five-foot-six and he doesn't like to touch sentences. I know a six-foot Czech who likes to touch sentences, so perhaps I'll touch that sentence with him. I've decided that someone should create a game which could be played with lunchmeat. Then we could have pro lunchmeat sports and players of said sports could be paid millions of dollars for flinging and swinging their various lunchmeats. If someone could invent golf then someone can invent a sport involving lunchmeat. I feel strongly about this. How did someone come up with the name "golf" anyway? One fine day someone said, "I feel like hitting a tiny ball into a tiny hole and perhaps I'll just do it with a long stick. What shall I call this activity? Wait, I know Golf!" The mind reels (no mean feat) but do the reels mind? Just asking.
You see? Once you've written that first sentence you can go anywhere at all, which this column is living proof of. Has anyone noticed that this is column 97, which means we are a mere three columns away from our handy-dandy 100th column in which there will be surprises and revelations aplenty, not to mention cheese slices? Has anyone gone to their refrigerator and swung a piece of lunchmeat? I feel that swinging lunchmeat will be the theme of this column. Perhaps we should have a theme song entitled Swinging the Lunchmeat.
Swinging the lunchmeat,
It's so much fun.
And then you can eat it,
When you are done.
Swinging the lunchmeat,
Do not delay.
Go swing some lunchmeat
Today.

Wasn't that a fine theme song? Perhaps we can get Andy Williams or Johnny Mathis to sing it.
Speaking of lunchmeat (and weren't we?), do you know what lunchmeat totally skeeved me as a child? Head cheese. Now, I don't know that headcheese had any actual lunchmeat in it but it certainly was in the lunchmeat section. Headcheese always looked like bologna with snot in it. Mmmmmm, doesn't that just make you hungry? Who would eat a food called headcheese anyway? And what's with "bologna"? Why is "bologna" pronounced "balowneeeeeee"? What idiot word person decided "balowneeeeeee" should be spelled "bologna"? Where is the sense? Another lunchmeat that skeeved me was liverwurst. Why would anyone eat a food that contained the word "wurst" in it, not to mention "liver"? I happen to feel that liver is the worst so if it were up to me I would spell "liverwurst" "liverworst" and wouldn't the world be a better place for it, lunchmeat spelling-wise? Why have I been going on ad nauseum about lunchmeats? Because it's the theme of this column, that's why. But I think we've exhausted that theme, don't you, dear readers? I think we've said all there is to say on that particular theme, don't you, dear readers? You'd almost think that this column was being written by Oscar Mayer and perhaps it is. Perhaps I'm sitting in my Wienermobile writing this here column whilst eating a lunchmeat sandwich (on white bread, of course). You know, perhaps I'd better quit while I'm ahead. Or perhaps I'd better quit while I'm afoot. Perhaps I'd better just end this section of the column, because frankly it's starting to feel like the songs of Frank Wildhorn: it all sounds the same. But enough about me.

Theatre Arts
Long before In Theater or Theater Week there was a truly wonderful magazine of the theater entitled Theatre Arts. I mention this because while I was going through my handy-dandy storage facility I came upon some back issues of said Theatre Arts magazine. Let me begin by saying that as much as I like In Theater magazine, it doesn't hold a candle to Theatre Arts. Of course, if it did hold a candle to Theatre Arts then Theatre Arts would be aflame and then where would we be? As a theater-hungry youth Theatre Arts magazine was heaven-on-Earth. It was chockfull of interesting articles, news on upcoming events, ads, and in practically every issue, a full-length play. And all for $.50. It was a monthly magazine and I couldn't wait to hie myself down to the newsstand once a month to purchase it and devour its contents. So, I took home a couple of issues to see if it was as good as I remembered and, by golly, it was. For example, in the October 1958 issue here are a few of the goodies contained inside: The complete script for Frank Loesser's brilliant musical, The Most Happy Fella (with lots of stills from the show). Many lovely ads for such things as a Collaro Stereophonic Record Changer and Goodmans Triaxonal Speaker System (I wanted one), Zenith's brand spanking new Space Command Remote Control TV Tuner (I wanted one), and such running Broadway shows as My Fair Lady (starring Edward Mulhare and Sally Ann Howes), Sunrise at Campobello (starring Ralph Bellamy) and Two For The Seesaw (starring Dana Andrews and Anne Bancroft). In addition to the above, the other current Broadway shows were The Dark At The Top of The Stairs, Look Homeward, Angel, Say Darling, The Visit, and the musicals Bells Are Ringing, The Music Man, Jamaica and West Side Story. Makes the current Broadway season look pretty anemic, doesn't it? And waiting in the wings was Goldilocks, The World of Suzie Wong, and A Touch of The Poet. Trying out on the road were Once More With Feeling, The Marriage-Go-Round, La Plume de ma Tante and a new musical entitled The Flower Drum Song by some people named Rodgers & Hammerstein. By the time that show reached Broadway it was minus the "The". In the "report on the new season" section here are some other upcoming shows that audiences could look forward to: Whoop Up, J.B., a new musical called Gypsy, Sweet Bird of Youth, Redhead, Destry Rides Again, Daarlin' Man (which would be retitled Juno), Cry For Happy (a new musical by Burton Lane and Dorothy Fields which I don't believe ever made it in), A Perfect Evening (a new musical from Pride and Prejudice which would ultimately be called First Impressions), The Unsinkable Mrs. Brown (which would open a season later with the Mrs. replaced by Molly), and an intriguing new musical entitled The Jet-Propelled Couch. Here is what the description says about that upcoming show: George Abbott will direct the musical comedy with book by Stanley Roberts, and music and lyrics by Stephen Sondheim. The theme is a blend of science fiction and psychiatry. The team of Robert E. Griffith and Harold S. Prince is producing. Say what? This show is mentioned in one paragraph in Miss Meryle Secrest's book Sondheim: A Life. As most of you know, this show was never completed and Sondheim says he only wrote a handful of songs for it, one of which ended up in his score to Stavisky. It does sound intriguing, doesn't it?
I think you can tell that this magazine was nirvana (anavrin spelled backwards) for a young theater fan. I suppose In Theater does the same for today's young theater fan, but it's much chattier and slick, whereas Theatre Arts was dignified and much more straight forward. And it's amazing to see the plethora of new plays and musicals, isn't it? Those were heady days indeed. Not footy days, mind you, no those were heady days. These days we're lucky if we get two new musicals a season and as for straight plays and comedies, well, I think we all know the sad state of affairs. Why is the state of affairs always called sad? I've always thought the state of affairs was happy. Much like the state of Maine. The state of this column is something wholly other, however. Perhaps if we all swung some lunchmeat, the state of this column might improve, although I doubt it.

Gypsy
Most of you know that Gypsy is my favorite musical and I've discussed the reason for it in several columns. So why, you might ask, am I bringing it up again? Well, I'll tell you why, dear readers, because you and I have a close personal relationship which cannot be denied. I bring up Gypsy again because recently I was given a cassette of Gypsy in its entirety, recorded presumably from the audience. But the extraordinary thing is that it was taped in its entirety during the original run with Ethel Merman, in fact, it was Miss Merman's final Broadway performance before going on tour with the show. The quality of the tape is not great as you'd imagine, but you can hear everything and it all comes through pretty clearly. To my eternal regret, I never got to see Miss Ethel Merman play Rose, but her performance on the cast album is nothing short of brilliant. I've seen Miss Angela Lansbury play Rose and also Tyne Daly. Both were excellent in very different ways. It is the generally held opinion of "those who know" that while Miss Merman's singing of the role will always be definitive, that her acting was not as good as the other two ladies I've mentioned. Well, after hearing the tape I can tell you that that is simply not true. She is wonderful in the book scenes and really lands the laughs. She is not quite as good as Daly or Lansbury in the most dramatic moments, but she's never less than great. And when she does Rose's Turn, well, it's simply chilling.
Listening to this tape was simply a glorious experience. The original cast of Gypsy was fantastic, and to hear Jack Klugman, Sandra Church, Paul Wallace and the rest is like taking a time machine back to the days when a Broadway musical knew how to be a Broadway musical. The most interesting thing about listening to this tape, however, is to hear the audience. Now, we all know what modern audiences at musicals are like. They whoop, they holler, they go "wooooooo", they scream, they stomp, they cheer, they stand. For anything. Very little discernment going on today. My memory of audiences back when I was a kid, was that while they enjoyed the show they were never vociferous like today's audiences are, and a show getting a standing ovation was the exception not the rule. So it was shocking to hear the audience reaction to this performance of Gypsy they whooped, they hollered, they screamed, they stomped, they cheered "bravo" every time they could. It was amazing. Because it was Miss Merman's final performance they even applauded the beginnings of songs. The ovation for Miss Merman on her entrance was thunderous and went on and on and on. Same at the end for her curtain call. Oh, to have actually been in the theater to see this, but hearing it is almost as much fun. And the one thing that remains clear throughout is that Gypsy is the greatest fusion of book, music and lyrics ever to grace the musical stage. The comedy is hilarious, the characters have depth, and the drama has real drama and the pathos real pathos. There is nothing "easy" about Gypsy. Mr. Laurents' work is a textbook example of the craft of book writing for the musical theater. Mr. Styne's score is unbelievable, every single melody is great and memorable, and my close personal friend Mr. Stephen Sondheim's lyrics remain fresh and brilliant to this very day. And there you have it.

The Real A: A Life
Miss Meryle Secrest is bent on discovering things that are more personal, more pointed, more intimate. First of all, seeing Miss Secrest bent is not an especially pleasing visual. I've told her to stand up straight, but she goes her own way, which in this case is bent. I told her that we're about to celebrate our 100th column and that there will be surprises and revelations but you know authors. They can't wait, they are impatient. And so, I suppose, I must throw her a bone. I thought perhaps the femur might be a good one.
As most of you know, when I was a mere youth of a child of a twig of a sprig I wanted to be a performer. That's all I could think about. I used to lie in bed and pretend there was a movie camera filming me. I performed whenever and wherever I could. As you've already read in this here column, I gave home recitals, I did "death" scenes at parties, I went to people's houses and did the entire Prologue to West Side Story (playing all the parts), I went to acting school, I went to dance classes, I performed in high school plays such as The Crucible, The Glass Menagerie and others. I loved the limelight and, to a lesser extent, the lemonlight. I read plays, saw plays, went to the movies. I dreamed a dream that I would one day be up on the professional stage or up on the movie screen. I suspect that many of you dear readers harbor the same dream as I did.
I had an uncle, Uncle Al, who was, in his heyday, a top agent at the William Morris Agency. Unfortunately, his heyday had passed by the time I was a teenager and while he was still an agent, he no longer represented performers. He'd become a top literary agent with a big agency that specialized in things literary. But one fine day my mother called Uncle Al to see if he could help her starstruck child. He came over to the house and sat me down and told me how hard Show Business was. He said if I was serious that I needed to have professional pictures taken. He said he could introduce me to a Lady with Connections. He also suggested I change my last name to a then popular brand of cigarette. Thank goodness I didn't take that piece of advice. But my mother, wanting to do the Right Thing, arranged for me to have professional pictures taken by the famous Bruno of Hollywood. I still have those pictures, dear readers, and they are most amusing. I have no memory of taking them or of Bruno of Hollywood, but these "professional" pictures are just heinous (heinous, do you hear me?). There I am in different guises: tough, vulnerable, pensive, agitated, pouty and looking ridiculous in every single image. Next, armed with my "professional" pictures by Bruno of Hollyood, I was taken by Uncle Al to meet the Lady with Connections. Apparently she had a great deal of power, and I believe was a casting lady of some stature. I think her name was Olga, but I can't be certain. I remember this meeting took place poolside at a hotel somewhere on the Sunset Strip. My only memory of the meeting is that Olga was lounging by the pool, sipping Ice Tea, and speaking in a crisp brusque manner. She told me that she might be able to set up some appointments (as a favor to Uncle Al) with some television producers. And do you know what I said, dear readers? I'm going to tell you even though it embarrasses me still. I said to Miss Olga Whatever-Her-Name-Was that I wasn't interested in television. Yes, you heard it here, dear readers, I told this Important Lady with Connections that I was only interested in the theater. What on earth was I thinking? My Uncle Al looked like he had swallowed an entire bottle of cod liver oil. The meeting ended and he castigated me in no uncertain terms, as well he should have. Needless to say, no appointments were made and my "professional" pictures by Bruno of Hollywood gathered dust in my room. Still, I continued to act in school plays and dream. A few years later, after I'd had three years of Theater Arts in college I went off to New York to Make My Name In The Theater. I did this because I thought I would never work in television or film. In the year that I was in New York I managed to do one show, in summer stock, in Lake Swananowa, New Jersey (In the city, not in the actual lake). It quickly became apparent to me that Broadway wasn't in a rush to procure my services. It was a very tough and humbling year, but two wonderful things came out of it. One personal, the other the bud of an idea that would later turn out to be one of the key moments of my life.
The irony was that when I got back to Los Angeles, within eight months I was having a screen test for a television pilot (close but no cigar) and within a month after that I was reading for a big guest shot in a new TV series (I got the cigar and the role). The first thing I did was call Uncle Al and tell him and he was thrilled. He called Olga, the Lady with Connections, and she was happy that I had at last realized the error of my ways in terms of my snooty attitude towards the small screen.
Now that I've gone this far, it of course isn't enough for Miss Meryle Secrest. Now she wants more. Perhaps next week I will tell her more. Or perhaps I will swing some lunchmeat. One simply never knows.
---

Letters... We Get Letters
Mr. Mark Bakalor informs me that we are getting mighty close to receiving our 2,000th letter. Can you believe it? Did you know that Mr. Bakalor once appeared on an actual television program when he was a mere sprig of a tad of a nub of a nib? It's true, he told me so himself. Apparently he had no reservations about the medium of television where as I only wanted to do theatuh when I was a callow youth. Perhaps Mr. Bakalor has an activity photo of this television appearance that he can share with us?

I wonder if Mr. Bakalor's "professional" pictures were taken by Bruno of Hollywood? In any case, there are lots of letters to answer, so let's to it.
Amtrakker was introduced to this here column by her close personal friend Provaire and she has been enjoying it. Prouvaire suggested to Amtrakker that she mention to us her nightgown which is covered with fish. She has had this nightgown since she was ten. I wonder if Amtrekker still wears said nightgown even though she is most likely older than ten now. Or if she just looks at it occasionally and says, "what is it, fish?". I do hope Amtrakker will send us an activity photo of the fish nightgown so that we may all sit on our various couches like so much various fish and enjoy it.
Prouvaire (close personal friend of Amtrakker) is putting a pond in his backyard. That is lovely. Perhaps I will go to a pond store and buy a pond for my yard, too. He is going to populate said pond with plants and animals and hopefully the pond will be popular with the populace. Also, the small group of Column A followers who live in Prouvaire's dorm is gearing up for our 100th column. They are slicing the cheese and chunking the ham and awaiting the surprises and revelations. As Mr. Stephen Sondheim so aptly put it, "Soon, I promise.
jc writes to tell me her computer was down and so did not read the column last Monday. If she had read the column last Monday she would have known my beloved Joe Allen was closed for renovation. If she'd known that she wouldn't have had her sister-in-law meet her there. They ended up eating at Danny's (home of Danny's Skylight Room). jc has noticed that I get to New York quite often and informs me that if I warn her in advance of my comings that she will inform me of her cabaret appearances and then maybe I can come to her cabaret show and bring along some other New York dear readers and I might just do that but haven't you noticed that this has turned into one of those goldarned run-on sentences and it seems that there is no end in sight and isn't it funny that I could barely write a sentence at the beginning of this here column and now we have a sentence with no end a sentence run amok a sentence with too many words and let me just find a punctuation mark (not Bakalor) of some sort so I can just stop this thing dead in its tracks whatever the hell that means. Whew, thank goodness for periods. Whatever would we do without them? Hopefully jc will keep us apprised of her appearances in the city known as New York.
Becca has also been stared at at Joe Allen (although not last week as they were closed for renovation). She believes that the staring occured because of the illustration that appeared on her t-shirt. However, Becca has neglected to tell us just what that illustration was. Perhaps she will share an activity photo of said illustration so that we may stare, too.
nameless (there was no name attached to the e-mail) agrees with me about the recording of Sweet Charity, hence I agree with nameless.
Jon B. tells me that it is clear that I have never seen an actual catfish and that they do have whiskers and they do look like cats. Not on my sandwich they didn't. On my sandwich that catfish just looked like so much fish and had no whiskers. Now I have to wonder if a monkfish looks like a Benedictine Monk. Jon B. asks if I've heard the new recording of 110 In The Shade starring Karen Ziemba and Ron Raines. Since the score is one of my favorites I bought the new album immediately. It's wonderful to have a complete recording of the score and I've listened to it several times already. My only criticism of it is that it doesn't have a cast album "feel" to it, and I miss the brashness of the original. The original cast album never really sounded that good, but it is brash and brassy and has a mesmerizing performance by Miss Inga Swenson. The new performers all do a fine job, and as I said, it's great to have it complete.
S. Woody White was recently in New York and saw six count them six shows. Kat and The Kings, Voices In The Dark, Side Man, The Weir, If Love Were All and Forbidden Broadway Strikes Back. S. Woody and his ever-lovin' der Brucer really liked If Love Were All and it was at intermission of that show's matinee that he and der Brucer met Judith Ivey (star of Voices In The Dark) at intermission. What S. Woody and der Brucer did not realize is that there was someone else in attendance at the If Love Were All matinee that day, and that someone just happens to be known as The Real A. Yes, you heard it here, dear readers, The Real A and S. Woody and der Brucer were all in the same place at the same time. In fact, The Real A was standing in close proximity to Miss Judith Ivey at intermission. What a shame I was not wearing my One From Column A t-shirt or that S. Woody was not wearing his. As the Sherman Brothers once wrote, "it's a small world, after all".
mrsmig was dismayed to read in this here column that I said there was no fish called a "dogfish". Apparently there is indeed a fish called a dogfish and mrsmig has enclosed an activity photo of said dogfish in case there are non-believers.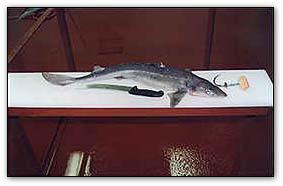 Anna confesses that she has neither written nor read this here column in quite some time. In other words, Anna has been absent. Anna has not been around or, for that matter, asquare or arectangle. Absent Anna wants to know where she can get the vocal score or selections to Mr. Stephen Schwartz's delightful The Magic Show. I'm not at all certain there was a songbook for the show, but I'm sure the songs are part of a Stephen Schwartz songbook or at least published seperately, as I've seen them. Try the usual sheet music outlets. We do hope Anna will rejoin our faithful throng of dear readers.
Ian is trying to find information on the Vancouver production of Sweeney Todd at The Arts Club Theatre. Ian would like to know if there are plans to bring said production to the fine city of Toronto (very clean, Toronto is). I don't have an answer but perhaps we have a Canadian dear reader out there who can shed some light on Ian's query.

Well, there is only one word that comes to mind and that is "yechhhhhh". That is one ugly fish. Someone beat that fish with an ugly stick. And as long as I'm saying phrases that my mother used to say I may as well add, "that fish should go play in traffic".
Tom from Oz has just purchased the video of Bernadette Peters' concert at London's Festival Hall, which he loved, except for her version of Unexpected Song from Song and Dance. I haven't seen said video and so cannot comment on said song.
William F. Orr would like it known right here and now and also right now and here that the Warner Bros. producer is not William F. Orr it is William R. Orr and so said producer is not he. What a difference a single initial can make. Just one initial means that William R. Orr got to work with Edd "Kookie" Byrnes and Roger Smith (hubs to Ann-Maragaret) while William F. Orr didn't. William G. Orr on the other hand was a well-known and respected maker of qualtiy venetian blinds, while William C. Orr was a magician who specialized in slight of foot. He did all his tricks using his feet and insisted that instead of people giving him a hand at the end of his act that they applaud using their feet. Next week perhaps we'll talk about William Z. Orr, who loved to wear women's lingerie while mowing the lawn.
Arnold M. Brockman (not Arnold Q. Brockman, noted worm collector) wants to know what happened to the promised activity photo of an Entenmann's Chocolate Donut covered with Haagen Dazs Swiss Vanilla Almond ice cream. What happened is that I went on a diet from eating so many donuts with ice cream and so can't have them in the house for another few weeks. But I will provide the photo before our 100th column, on that you can rely.
Valentia asks if Stephen Sondheim is writing Wise Guys for Broadway in addition to Putting It Together. Mr. Sondheim isn't writing Putting It Together, it is a theme-revue, using his songs, which has gone through several different versions. The Carol Burnett version premiered in Los Angeles at the Mark Taper Forum and it is that production (with two new cast members) that is coming to Broadway. As to Wise Guys, it is about to have a three week workshop in New York and is slated for Broadway in April of next year if all goes according to plan. There is a lovely article written by Mr. Sondheim himself in the Sunday New York Times about the show and its gestation.

Trivia and Other Useless Knowledge
Here are the results of our little cast album poll. I've limited this to five albums.
Greg: Company, Sweeney Todd, Jacques Brel, Cabaret (OBC), Kiss Me Kate

Riht: Juno, Nefertiti, The Baker's Wife, Whoop-Up, The Most Happy Fella, The Falsettos Trilogy

Ted: Company, A Little Night Music, She Loves Me (OBC), West Side Story, On The Twentieth Century

Tom: Sweeney Todd, 110 In The Shade, Gypsy, Carousel, She Loves Me

Sara: The Sound of Music, Ragtime, Guys and Dolls (OBC), Chicago (revival), West Side Story

David: Assassins, You're A Good Man, Chalie Brown (revival), Children of Eden, Ragtime, Cabaret (revival)

jc: A Little Night Music, Starting Here, Starting Now (London cast), Into The Woods, Nine, Merrily We Roll Along

Prouvaire: Gypsy, The Happy Time, Martin Guerre, Follies, The Secret Garden

nameless: Sunday In The Park With George, Pacific Overtures

mrsmig: Sweeney Todd, A Little Night Music, Once On This Island, My Fair Lady, Purlie

rashiz: Into The Woods, Sunday In The Park With George, Mack and Mabel, The Secret Garden, Peter Pan

Sean: Once Upon A Mattress, How To Succeed, Dance A Little Closer, A Little Night Music, The Rink

Pat: Oliver (Mackintosh version), Company, Sweeney Todd, City of Angels, The Secret Garden

Alan G.: Cabaret (London cast), Sweeney Todd, A Little Night Music, The King & I ('77), Company

And there you have it. All interesting choices with the expected lean towards Sondheim. Thanks for all your good lists.
This week's trivia question: Since Joe Allen was closed for renovation, here is a Joe Allen trivia question: Joe Allen is featured prominently in a film and a musical. Name them.

Send all answers to me at real@sondheim.com or use the form below...




Well, dear readers, once I got past that first fershluganah sentence there was no stopping me. I just kept going, adding sentence after sentence until suddenly there was an entire column. I feel we have been true to the theme of this column, that theme being swinging lunchmeat, not to be confused with swinging London or Swinging Cheerleaders. To all of our Jewish readers a happy New Year and may it be filled with wonderment and good things for all including fish.

Until next time, I am, as I ever was, and ever shall be...


Yours, yours, yours, yours, yours.







"Assassins is about how society interprets the American Dream, marginalizes outsiders and rewrites and sanitizes its collective history. "Something Just Broke" is a major distraction and plays like an afterthought, shoe horned simply to appease. The song breaks the dramatic fluidity and obstructs the overall pacing and climactic arc which derails the very intent and momentum that makes this work so compelling..."
- Mark Bakalor


"I found [the Sondheim Celebration's Company] to be completely delightful. Almost all of the numbers excited and energized me, and most of the scenes were about as pitch-perfect as you can get. I just sat there with a big smile on my face the whole show.
Which is not to say that it is perfect..."
- popcornonmyknees

Explore the rest of the Finishing the Chat Community Forum

With three hand-held cameras, one major theatrical milestone and nearly nineteen hours of footage, this rare and intimate look with Original Cast Album - Company is a must for any Sondheim fan.




One of Sondheim's most beloved works is sure to be Sunday in the Park with George, available on DVD, video tape, and CD.

CD: $13.99
DVD: $25.49
VHS: $19.98




All Sondheim completists are sure to now own the first complete recording of The Frogs coupled with Evening Primrose. Do you?


Browse additional merchandise...