« Features
Any committed playgoer has on occasion found himself at odds with the prevailing opinlon of a given show. My most startling wrongo happened during the Philadelphia tryout of Gypsy.
At a Wednesday matinee audience consisting of indifferent women, I witnessed a story of a devouring mother who blatantly used her performing youngsters to survive in vaudeville. This entailed a series of kiddie acts for much of the first half. When finally deserted by her rebellious daughters, Ethel Merman, as the ruthless mother, decides to go it alone in the show's biggest number, "Rose's Turn" a wail of self-pity that made any enlightened parent want to strangle her. The score was one of Jules Styne's best, but remember that in those days even inferior books were often blessed with superb music.
Thus I was stunned at the critical reception on Broadway. Typical was Walter Kerr's rave quote: "Best Damn Musical in Years!". Merman's committed performance was hailed as a highlight of her career, and since Gypsy Rose Lee's best-selling autobiography "Gypsy", on which the musical was based, had set the stage, sympathy was given even the kiddie numbers. As for "Rose's Turn", its acceptance set the precedent for "Do Re Me", where Phil Silvers, a debt-ridden horse-playing no-goodnik climaxed his performance with a similar plaint, "All of My Life!". There followed a series of comedies by humorists like Neil Simon, who found laughter in themes like unemployment, bereavement and divorce.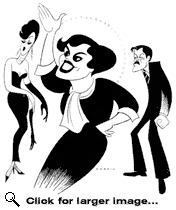 All artwork has been reproduced by special arrangement
with Sam Norkin Studio. Click here for more information.



"Assassins is about how society interprets the American Dream, marginalizes outsiders and rewrites and sanitizes its collective history. "Something Just Broke" is a major distraction and plays like an afterthought, shoe horned simply to appease. The song breaks the dramatic fluidity and obstructs the overall pacing and climactic arc which derails the very intent and momentum that makes this work so compelling..."
- Mark Bakalor


"I found [the Sondheim Celebration's Company] to be completely delightful. Almost all of the numbers excited and energized me, and most of the scenes were about as pitch-perfect as you can get. I just sat there with a big smile on my face the whole show.
Which is not to say that it is perfect..."
- popcornonmyknees

Explore the rest of the Finishing the Chat Community Forum

With three hand-held cameras, one major theatrical milestone and nearly nineteen hours of footage, this rare and intimate look with Original Cast Album - Company is a must for any Sondheim fan.




One of Sondheim's most beloved works is sure to be Sunday in the Park with George, available on DVD, video tape, and CD.

CD: $13.99
DVD: $25.49
VHS: $19.98




All Sondheim completists are sure to now own the first complete recording of The Frogs coupled with Evening Primrose. Do you?


Browse additional merchandise...