« Features
Some shows are conceived architecturally in such a fundamental way that the rehearsals of necessity have to begin with the setting complete and in place. One such case was Anthony Newley's The Roar of the Greasepaint, The Smell of the Crowd, in which the players performed on an elevated, curved ramp. Another was the original production of O'Neill's A Moon for the Misbegotten, where the set was the facade of a dirt farmer's humble cottage. In this case, the scenery shop, located in the West Side's Hell's Kitchen, was convenient for the cast of four, including Wendy Hiller and Franchot Tone, to rehearse with authenticity.
But the Follies rehearsal took place in a scene shop in the South Bronx, otherwise known as Fort Apache, in honor of its knife-wielding delinquents.
After parking on a dark, deserted street, I was admitted in a side door by a security guard. Inside was a large staff and a cast that included Alexis Smith, Gene Nelson, Fifi Dorsay and Yvonne de Carlo. The scenery in question involved multi-level scaffolding, vital to the cast but irrelevant to my needs. Follies proved a highly creative musical, typical of producer Hal Prince, with a generous run and revivals.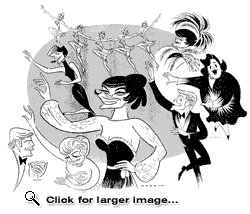 All artwork has been reproduced by special arrangement
with Sam Norkin Studio. Click here for more information.



"Assassins is about how society interprets the American Dream, marginalizes outsiders and rewrites and sanitizes its collective history. "Something Just Broke" is a major distraction and plays like an afterthought, shoe horned simply to appease. The song breaks the dramatic fluidity and obstructs the overall pacing and climactic arc which derails the very intent and momentum that makes this work so compelling..."
- Mark Bakalor


"I found [the Sondheim Celebration's Company] to be completely delightful. Almost all of the numbers excited and energized me, and most of the scenes were about as pitch-perfect as you can get. I just sat there with a big smile on my face the whole show.
Which is not to say that it is perfect..."
- popcornonmyknees

Explore the rest of the Finishing the Chat Community Forum

With three hand-held cameras, one major theatrical milestone and nearly nineteen hours of footage, this rare and intimate look with Original Cast Album - Company is a must for any Sondheim fan.




One of Sondheim's most beloved works is sure to be Sunday in the Park with George, available on DVD, video tape, and CD.

CD: $13.99
DVD: $25.49
VHS: $19.98




All Sondheim completists are sure to now own the first complete recording of The Frogs coupled with Evening Primrose. Do you?


Browse additional merchandise...