« Features


A Book Excerpt by Meryle Secrest
Those long summer holidays were another problem Foxy tackled with her usual determination and panache. She chose Camp Androscoggin, a famous all-boys' camp in Wayne, Maine, where campers lived in simple cabins in the pine woods beside a large lake. It was, said Robert W. Bloch, who also went there, patronized by prominent German-Jewish families from the New York area and emphasized athletics from dawn to dusk: archery, tennis, boating, swimming, basketball, soccer, gymnastics. Each hour of the day was closely supervised. Bloch remembers that Stephen was a member of the Milk Squad, comprised of children who were considered to need extra nutrition, and early photographs do show him as one of the smaller boys, in the front row, looking forlorn. Bloch disliked Camp Androscoggin, but Sondheim has only warm memories of the five summers he spent there which, to him, were an extension of Saturdays with the Group, deliciously and endlessly prolonged. Bloch remembers that once they all went to be fitted for gray wool tops bearing large letter A's, and how swamped Stephen looked in his new top, standing out there by himself on the soccer field.
Although at home he was almost entirely cared for by servants, Sondheim remembers them as benevolent presences. There was an Irish cook named Mary, whose husband, Paddy, was a doorman at the Beresford six blocks north, the other luxury apartment building on Central Park West designed by Emery Roth during the same period. Paddy was on duty at the side entrance on Eighty-first Street, and once school was out Stephen would be allowed to open the door for people as a special treat. Paddy also taught him to play chess, and Stephen promptly gave lessons to Skippy. A great deal of his young life was spent listening to the radio (Fred Allen and Charlie McCarthy-"I was brought up on those") and sending away for such things as Little Orphan Annie rings. "So my parents would have to put up with a box of . . . whatever cereal it was, because it came with a decoder ring. I think I was a very ordinary kid."
When he was sick in bed, his mother's cousin Peggy Schlesinger would leave her job to sit with him and play games, something his mother never did. He was healthy as a youngster, but he did have asthma, which later would disqualify him for military service. There was a great emphasis on manners. "You are polite, you look people in the eye, you get up when a woman comes into the room. . . . I was brought up in a genteel, upper-middle-class way," he said. As a toddler he was dressed in knitted two-piece outfits, a fashion that survives to this day for small French boys, usually accompanied by nautical stripes. Or he might be photographed with the family dog, whose name was Scotty, in front of the family fireplace, graced with Oriental urns, wearing suits with short pants and Little Lord Fauntleroy collars. At this age he bore a strong resemblance to his father, with the same delicate features and finely modeled head.
Sondheim learned to read at an early age. He remembers that, in those days, children at the Ethical Culture School were taught to sound out words by syllables, a method he mastered so well that, at the age of five, he used to stand in front of his first-grade class reading the New York Times. Thanks to this method, he could even pronounce the hard words he could not possibly be expected to know with some success. But even before he could read he had mastered the ability to identify record albums simply by recognizing the pattern that the words made on the spine, and his parents would trot him out in the evenings to demonstrate this parlor trick before the guests. It is significant that words and music should have been closely allied so soon, although he says he became interested in the music because he was fascinated by a phonograph player they had at the time, a Capehart.
"A Capehart was a wonderful invention with a console record player, and what it did was play both sides of a record. The gimmick was, if you're looking at it, and it was glass-fronted, there is a sort of rim around the turntable, and then there is what looked like a music stand, so you pile your records onto that, you press the button, and the record slides down, and when that side is over, this rim thing picks up the record and does it . . . like that," he said, almost tying his arms in knots in an effort to demonstrate how the ingenious mechanism performed this feat. "Now the record slides down on the second side! And when that's done it spits it out someplace and the next record comes in." He remembers an old 78 of Fats Waller singing "Ain't Misbehavin' " and a collection of show albums on ten-inch records that had been put out by Liberty Records. He would lie on the floor, listening to the music and watching the Capehart turning the records over and over.
There were always show tunes in the house, because Herbert Sondheim's favorite form of recreation was playing the piano. He was entirely self-taught and had mastered, his son said, seven or eight basic chords, which worked perfectly well for most popular tunes; less well for composers who used more inventive harmonies. Perhaps it was his willingness to sit down and play, combined with his charm of manner, but Sondheim the couturier who also performed became a familiar figure on Seventh Avenue. Alice Crouthers, who was formerly the buyer for the exclusive Wedgwood Room of F. & R. Lazarus & Co. in Columbus, Ohio, said that one of the highlights of a fashion show by Sondheim was his willingness to play Broadway numbers at the end of the program. An advertisement for some of his summer dresses, which was printed in the 1940s and widely reproduced, was decorated with drawings of musicians playing violins, drums, and double bass, along with an impressionistic sketch of the great man himself in the lower right-hand corner. The headline was "The Sondheim Straw Hat Chorus," which seems prescient.
Sondheim had a group of cronies who saw each other on Thursday nights and went to sports events on weekends, but one of his closest friends was Lloyd Weill, also in the dress business and living in the San Remo. Weill, who was a natural tenor, was a clever lyricist who would write parody lyrics to a popular song for a specific occasion; Sondheim would learn the accompaniment, and they would perform the song for charity. They made numerous appearances for the New York and Brooklyn Federation of Jewish Philanthropies and other organizations such as the young Museum of Costume Art, one of Sondheim's special interests. They became so well known that they were called "the Rodgers and Hart of Seventh Avenue." Curiously enough, another friend of Sondheim's was Dorothy Fields, the famous lyricist. Her father, Lew Fields, once part of the famous vaudeville comedy team of Weber and Fields, later became a producer and launched the careers of Rodgers and Hart, among others. Dorothy Fields worked with a wide range of composers, from Fritz Kreisler to Jerome Kern, and she and Kern won an Academy Award in 1936 for "The Way You Look Tonight." Sondheim said that his father introduced another of his close friends, Eli Lahm, to Dorothy Fields and "made a shiddach," i.e., a match. After they married and had children, Aunt Dorothy was at their apartment constantly, but Sondheim had no idea what she did until he became an adolescent.
Musical evenings were a large part of the Sondheim entertaining at home. Felicia Steiner Lemonick remembers grown-up parties when Lloyd Weill sang-"he was outgoing and fun and crazy"-and hearing Herbert Sondheim play the piano, and her father as well, since he was also a part-time musician and composer. A group of parents went to dinner parties at each other's apartments, and sometimes Skippy would be trotted out to play a duet with his father, while his nurse waited in the background. And so would Stephen.
He started to take piano lessons from the age of about seven, studying with a Mrs. Moss, who had a small studio on West Eighty-fourth Street just off Central Park West. "My father would sit me at the piano bench and have me put my hand on his little finger, which played the melody over the top," and that led to weekly piano lessons. "At the end of each year we would have to give recitals for all the little kids. I had a very fleet right hand, so one of the first pieces I would play was 'The Flight of the Bumblebee' by Rimsky-Korsakov. My father and mother used to take me out of bed at cocktail time if they had clients, they'd drag me out in my pajamas to play 'The Flight of the Bumblebee.' I took lessons for about two years. I don't remember why I stopped, but I am very right-handed and at the piano my left hand is really a lump, very difficult to make work except for oompah, oompah."
He did not recall having any marked interest in music. He did concede, "I can't remember when I didn't go around humming things," but dismissed the idea that this was in any way indicative of special talent. All children had similar gifts, he believed, but their interests were not allowed to develop, or were even discouraged by misguided parents and teachers. He could just have easily been a mathematician, and was "very strongly attracted" by the idea. He had no interest in art and poetry, and his inability to conjure up a visual image remains striking. When asked to describe his mother, he said helplessly, "You'll have to see pictures of her." As the description of the Capehart phonograph would indicate, he was intensely interested in how things worked, and once took a slot machine apart-it took him three days-because it had jammed and he wanted to solve the puzzle. He was taken to the movies-he vividly remembers seeing Disney's Snow White-and to the theatre on rare occasions. He saw his first live theatre at age six, Benatzky's operetta White Horse Inn. He remembers seeing Rodgers and Hart's The Boys from Syracuse, which opened on Broadway in the late fall of 1938, and Oscar Hammerstein II's Very Warm for May the following year. He also met the great man himself that year but remembers nothing about it.
He moved to the Ethical Culture's Fieldston campus in Riverdale, a bus ride away, when he was in fourth grade, although he does not remember why. "What I remember most is that they were teaching you how to take care of yourself financially. You were issued a checkbook and you'd go to the canteen and make a check out for five cents for a pack of gum, or something. You had a bank account of, say, a dollar fifty, and you had to balance your account. I loved that. That was great. That's what I mostly remember about Fieldston."
His lack of any memory of his mother at that period, even though she was seldom at home, seems unusual. When he came to undertake analysis in adulthood, the paucity of these early memories caused his therapist to wonder whether some painful memories were being repressed. It was finally concluded that thiswas not the case.
"I don't remember my mother at all during those years . . . I don't think she was around. I don't think she cared. I think my father wanted to share things with me; I think my mother did not. I have no memory of my mother doing anything with me. And my father, it was only on occasional Sundays that we would go to ball games. Otherwise I was what they call an institutionalized child, meaning one who has no contact with any kind of family. You're in, though it's luxurious, you're in an environment that supplies you with everything but human contact. No brothers and sisters, no parents, and yet plenty to eat, and friends to play with, and a warm bed, you know? And a radio."
Felicia Lemonick had a sad memory of visiting him. "Because he just didn't have the affection, attention, and love that other children had. I thought of him as a child pressing his nose against the glass." Myra Berzoff thought he was "a truly neglected child emotionally, left with governesses and servants and badly abused." Joan Barnet went to visit the Sondheims when she was about fourteen and Stephen around eight years old. "He was a very beautiful boy dressed in English clothes. I remember him in their large living room with this piano and servants and a dog, and how lonely he seemed."
Sondheim said, "You will find people who will say, 'Gee, he was an unhappy kid.' Because I've heard that. And so obviously people could look at me from the outside . . . but I don't remember it. I really don't. I didn't cry myself to sleep . . . And I was very popular in school, and I remember being happy there; and since most of my life was spent in school and camp, where, again, I was popular and accomplished, eighty percent of my waking hours I was being supported. I didn't know that I was missing my parents."
Then one night when he was ten years old, his whole world came apart.
He was awakened by the sound of sobbing coming from his mother's room. "A rainy night, a sudden awakening," he wrote later, "a voice sobbing loudly, incessantly, a frightened voice, a lonely voice." His mother took him into her bedroom and "wept all over me and clung to me and held me all night and that's how I found out. I don't remember how I felt. I guess I was just upset for her. I didn't make any judgments or recriminations."
Herbert Sondheim had written a note, packed up his clothes, and walked out.
---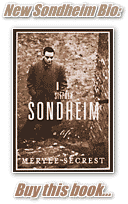 ---

Copyright © 1998 by Meryle Secrest Beveridge. All rights reserved.
A Randomhouse / Borzoi Reader Book