« Features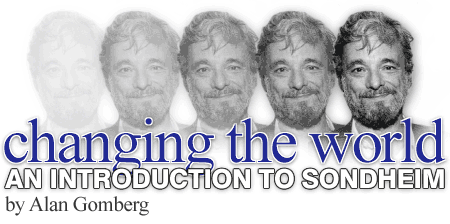 PART TWO - A Hero Arrives
In 1969, Sondheim and Goldman put The Girls Upstairs on hold while Sondheim wrote Company, the show that established him decisively as a major artist. From that time forward, he would prove himself a master at using specific compositional techniques to give each of his scores an individual feel, while maintaining a sound and style that is his own.
Company was the first show of Sondheim's that was directed by his longtime friend Hal Prince, who had earlier produced West Side Story and A Funny Thing Happened on the Way to the Forum, in the days when Prince worked primarily as a producer. When Sondheim showed Prince 11 one-act plays that had been written by a friend of his, the actor George Furth, Prince decided that several of the plays might be incorporated into a musical that, in Prince's words, "would be about marriage today... the plays weren't all about marriage, but some of them were. I thought, what if we could construct a musical about New York marriages and if we could create a central character to examine these marriages." (Zadan, Sondheim & Co., New York, 1989, 116-117) Prince wrote that he hoped to use the plays as raw material out of which to create a show that would "examine attitudes toward marriage, the influence upon it of life in the cities, and collateral problems of especial interest to those of us in our forties. ...If in fact it could be a musical, how to make it one? The real problem was, the plays stood on their own. Interruptions by musical numbers would kill their pace. Thirteen love songs wouldn't do, nor would thirteen songs about marriage. The problem in the theatre occasionally creates the marvelous solution. In this instance, Sondheim left the plays intact and composed a score for those members of the company not involved in a specific episode. The observers." (Prince, Contradictions, New York, 1974, 144) Sondheim spoke of the problem from a slightly different perspective. "It was new for me because we realized early on that the kind of song that would not work in the show was the Rodgers and Hammerstein kind of song in which the characters reach a certain point and then sing their emotions, because George writes the kind of people who do not sing. To spend time exploring the characters would be wrong because they were primarily presented in vignettes, and as soon you'd try to expand them with song it would be a mistake. ...We had our songs interrupt the story and be sung mostly by people outside the scene commenting on the action taking place. You never want to make a statement but Company did become controversial because it dealt with the increasing difficulty of making one-to- one relationships in an increasingly dehumanized society. And one of the reasons we had it take place in front of chrome and glass and steel was that it took place in an urban society in which individuality and individual feeling become more and more difficult to maintain. It's the lonely crowd syndrome. It's also about expecting relationships to be what they're not. Chekhov once said: 'If you're of loneliness, don't get married.' Most succinct." (Zadan, 117)
The main character in Company (1970; revised 1995), Robert, is a 35-year-old bachelor. The show is set in New York. Robert's best friends are five married couples who are obsessed with him. Both acts of the show begin and end with different versions of a surprise birthday party that they are throwing for Robert.
The first party scene dissolves into the opening number, the title song, which starts with a musical evocation of a busy signal, signifying the frantic pace of Manhattan life. In the song, we see how each of the couples is dependent on Robert, as, in counterpoint, they invite him to dinner, to the opera, to the beach, while Robert tries to keep up with them and fulfill all their demands. Robert, however, clearly enjoys his position as friend, counselor and general buffer between each husband and wife. The main body of the song, sung initially by Robert, then by the entire company, is a paean to the idea of "company," of being with other people, of not being alone:
Phone rings, door chimes, in comes company!
No strings, good times, room hums, company!
...And that's what it's all about, isn't it?

The song suggests, somewhat obliquely but right at the start of the show, that Robert uses the couples to distract himself from feeling lonely, and that the couples use Robert to distract themselves from feeling that they are alone with each other, that they are perhaps lonelier as part of a couple than they would be alone, as Sondheim's quote from Chekhov suggested. If Robert did not continually distract himself, if he spent enough time by himself to really feel lonely, perhaps he would be more inclined to pursue a one-on-one long-term relationship. But then, perhaps, as Sondheim also suggested, his expectations of what he would get from a relationship--an answer to his loneliness--would not be realistic. And if the couples were to spend more time alone together, perhaps they would reach a deeper understanding of each other. But as we see during the course of the show, marriage is about accepting each other, flaws and all, something that is not easy to do, and that people consequently run away from as much as they desire. To love someone, we see, you must love not just the person's good points, but his flaws as well.

Most of the show consists of scenes depicting Robert's relationships with each of the couples. Some of them advise him to get married, some advise him not to, some seem to have different feelings on the subject from scene to scene, and some don't seem to know what they feel on the subject. At the same time, it is apparent that even those husbands who advise him to get married envy his sexual freedom, and that all the women desire him. Ambiguity shades everybody's feelings on marriage throughout the entire show, with the title of one song expressing this ambiguity very directly: "Sorry-Grateful," which is sung by several of the husbands in response to Robert's question, "Are you ever sorry you got married?"
We also see bits of his relationships with three women who are potential romantic partners. Two of them, however, are clearly inappropriate for him, while Robert has apparently rejected the third.
As for Robert, he sometimes seems to desire a long-term relationship, sometimes not. He even sings a song describing his ideal woman: "Someone Is Waiting." What he describes, however, is an abstraction, a composite, an imaginary woman who is made up of the best qualities of each of his married female friends.
Someone is waiting,
Cool as Sarah,
Easy and loving as Susan--
Jenny.
Someone is waiting,
Warm as Susan,
Frantic and touching as Amy--
Joanne.

At other times, however, he expresses his fears that commitment to another person would force him to compromise his own desires, sexual and otherwise, and that he would feel trapped. It seems as if Robert's responses on the subject are dependent on the attitudes being expressed to him. For example, Robert sings "Someone Is Waiting" directly after the husbands sing "Have I Got a Girl for You?," in which they at first urge him to pursue purely sexual relationships with attractive girls they know and desire themselves, and then outline for him all the wonderful things that marriage is not. On the other hand, any time someone suggests to Robert that he might be better off being married, he seems torn between admitting that he doesn't want to be married and justifying his reasons for this, and insisting that he is ready to be married.



"Assassins is about how society interprets the American Dream, marginalizes outsiders and rewrites and sanitizes its collective history. "Something Just Broke" is a major distraction and plays like an afterthought, shoe horned simply to appease. The song breaks the dramatic fluidity and obstructs the overall pacing and climactic arc which derails the very intent and momentum that makes this work so compelling..."
- Mark Bakalor


"I found [the Sondheim Celebration's Company] to be completely delightful. Almost all of the numbers excited and energized me, and most of the scenes were about as pitch-perfect as you can get. I just sat there with a big smile on my face the whole show.
Which is not to say that it is perfect..."
- popcornonmyknees

Explore the rest of the Finishing the Chat Community Forum

With three hand-held cameras, one major theatrical milestone and nearly nineteen hours of footage, this rare and intimate look with Original Cast Album - Company is a must for any Sondheim fan.




One of Sondheim's most beloved works is sure to be Sunday in the Park with George, available on DVD, video tape, and CD.

CD: $13.99
DVD: $25.49
VHS: $19.98




All Sondheim completists are sure to now own the first complete recording of The Frogs coupled with Evening Primrose. Do you?


Browse additional merchandise...